By Jack Evans, December 3, 2018
Quick Facts
Model spec: Mercedes AMG G63 Price: £153,905.00 Engine: 4.0-litre twin-turbo V8
BHP / Torque: 577 / 850 Max Speed: 149 CO2: 299g/km 0-62mph: 4.3 seconds
Economy/Range: 35mpg combined Tax: £500/year
The Mercedes-AMG G63 may look unashamedly retro, but it's packing some serious new-car technology. Jack Evans finds out what it's like to drive.
---
What is it?
It's here – the all-new Mercedes G-Class. Though it may look almost comically unchanged over the car it replaces, this is a comprehensive replacement and you can count the number of parts carried over from its predecessor on one hand.
Boxy and old-school in appearance it may be, but this latest G is packing some serious tech, as well as some outlandish power in the Mercedes-AMG G63 specification that we're testing here. We've headed out to see just how this successor to one of the longest-running model lines ever deals with the UK's roads.
What's new?
As we said earlier, despite the car's almost agriculturally square design, a lot has been changed on this latest G-Class over the older car. The rigid ladder chassis remains but it's now lighter, while independent double wishbone suspension has been fitted to it in order to make the G a little more well-behaved on the tarmac.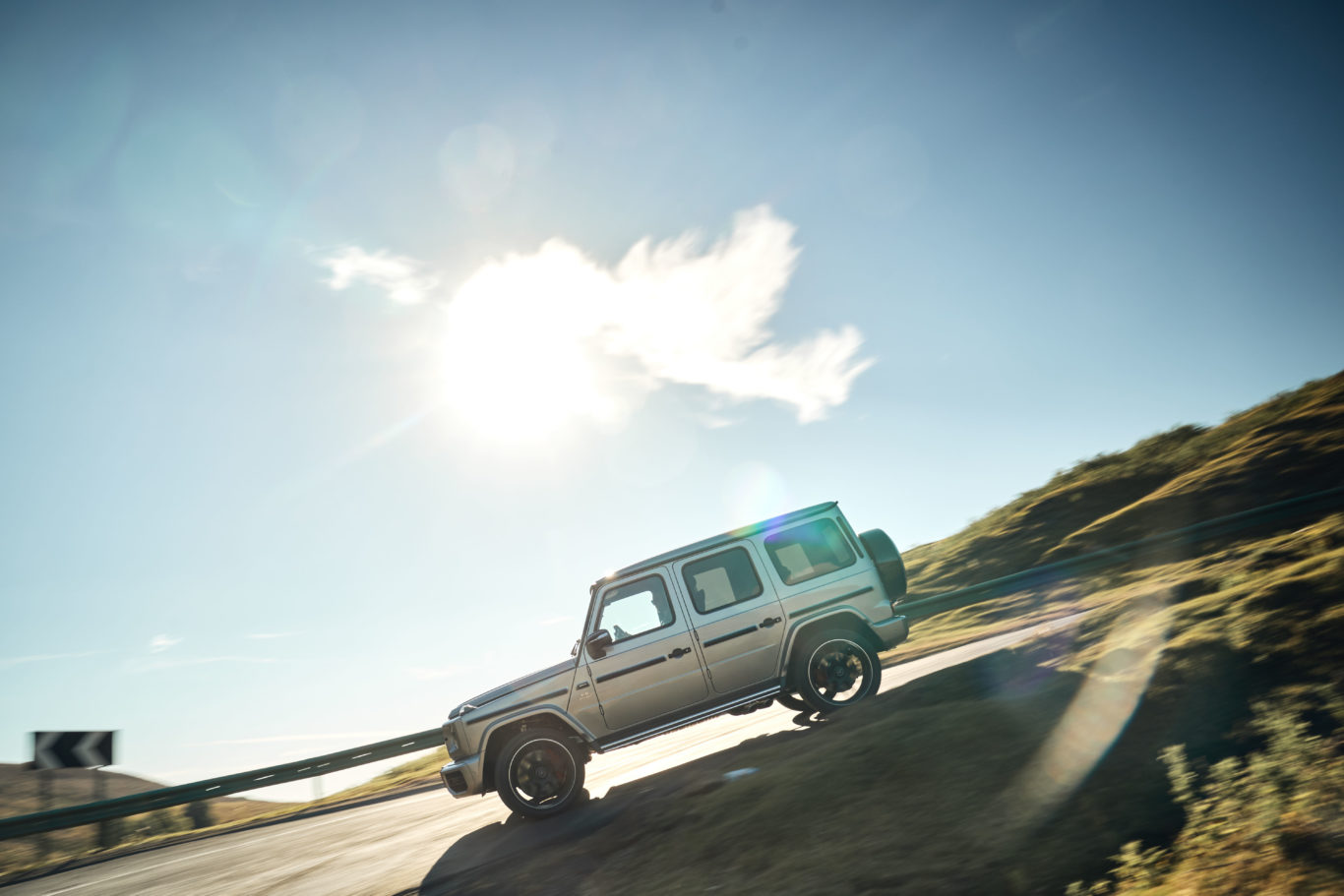 It's also larger than the old G. It's grown in length and width, and while making it even more commanding out on the road, means there's more space inside for people and luggage. This AMG version car also benefits from an uprated braking system to help bring the leviathan to a halt in an effective manner.
What's under the bonnet?
Here's where things get very interesting. We've got Mercedes AMG's tried-and-tested 4.0-litre biturbo V8 beating underneath the G-Class' bonnet, and it's the same unit as the one you'll find in cars such as C63 and E63. There's torque in spades, with a colossal 850Nm of pushing power helping to get this heavyweight going. Power is driven to all four wheels via a nine-speed automatic gearbox, and you've got three separate locking differentials for when the terrain gets particularly rough.
Fuel economy? It's probably best we don't spend too long on that. On a good day Mercedes say the G63 will return 21.4mpg on the combined cycle, though on longer trips we saw around 19 – and around town it dropped considerably. This car's thirst for fuel is almost as formidable as its performance – and brace yourself for fill-ups too, as the G is fitted with a 100-litre fuel tank.
What's it like to drive?
With that impressive engine under the bonnet, how does the G feel out on the road? Brilliant, in fact. The absurdity of the car's power delivery – and the way 577 rampaging horses are transferred to the road – is one of the greatest triumphs of this car. Hitting 60mph takes just 4.3 seconds, and all the while you think to yourself 'how on earth is something this massive going so quickly?'. It's addictive, to say the least; no least because of the thunderous bellow emitting from the side-exit exhausts with each and every prod of the throttle.
The steering is a monumental step-up over the old car in that now, the G-Class actually has some. Driving the old car took a fair amount of commitment – though others could call it bravery – whereas the new Mercedes-AMG G63 goes around corners in a reasonably dignified fashion. It's vague, there's no doubt about that, but it does the job of easily getting the Mercedes through a turn successfully.
How does it look?
Big, brash and out-there, the G-Class isn't one for shrinking violets. It's a dominating presence, with its wide arches, vast proportions and huge tyres contributing to a vehicle which is difficult to ignore. Certainly, it's not going to be for all people – but we certainly love the way it looks.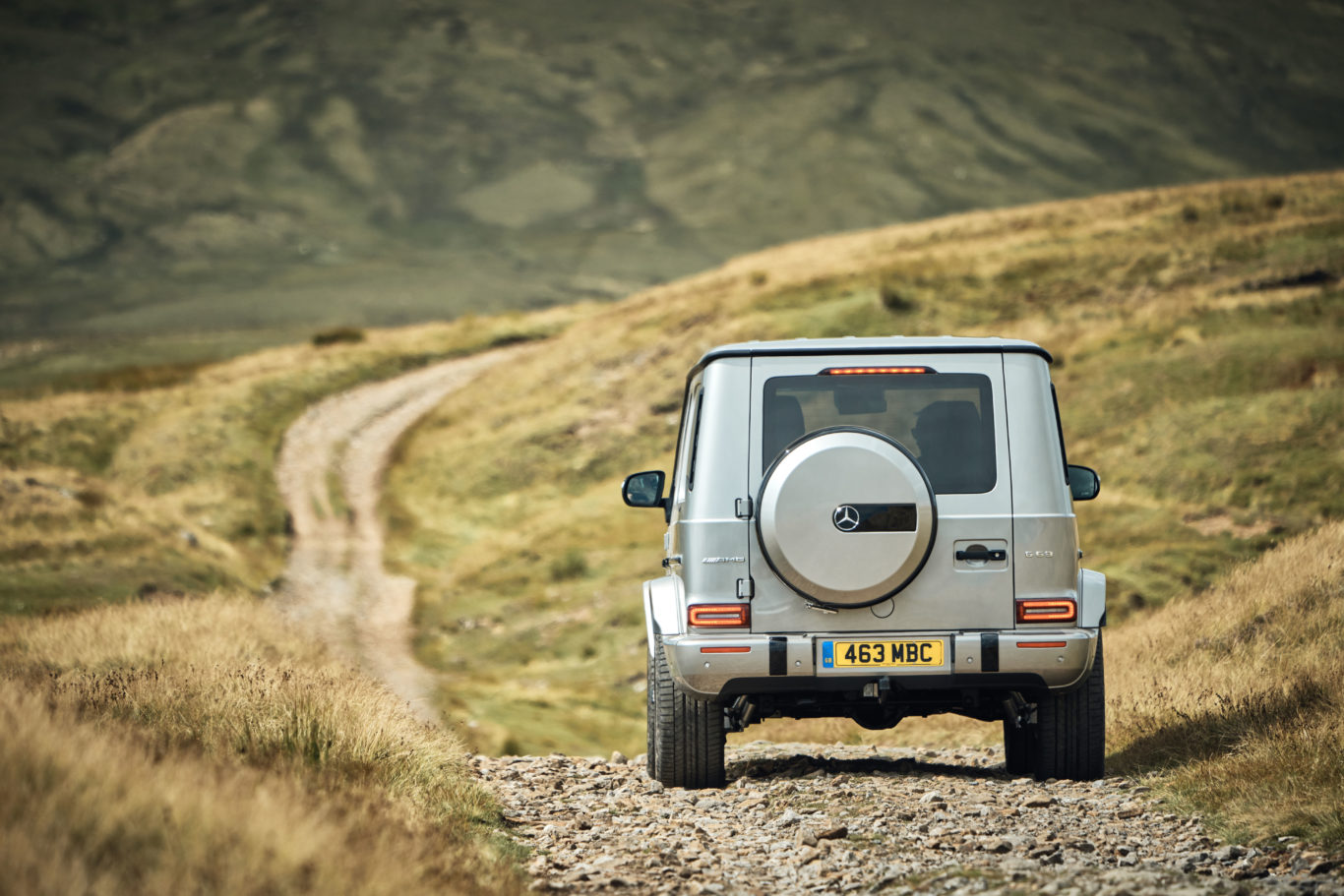 There's a lot of gangster-like appeal to the way our all blacked-out test car looked, though we're aware of a particularly good shade of green available for the G-Class too – this is the one we'd go for if it were our choice.
What's it like inside?
The interior of the new Mercedes-AMG G63 is, much like the car's handling, a tremendous step-up from the version it replaces. The old G felt decidedly low-rent inside, and certainly not up to the standards of a car with a £100,000 price tag. This, however, isn't the case anymore.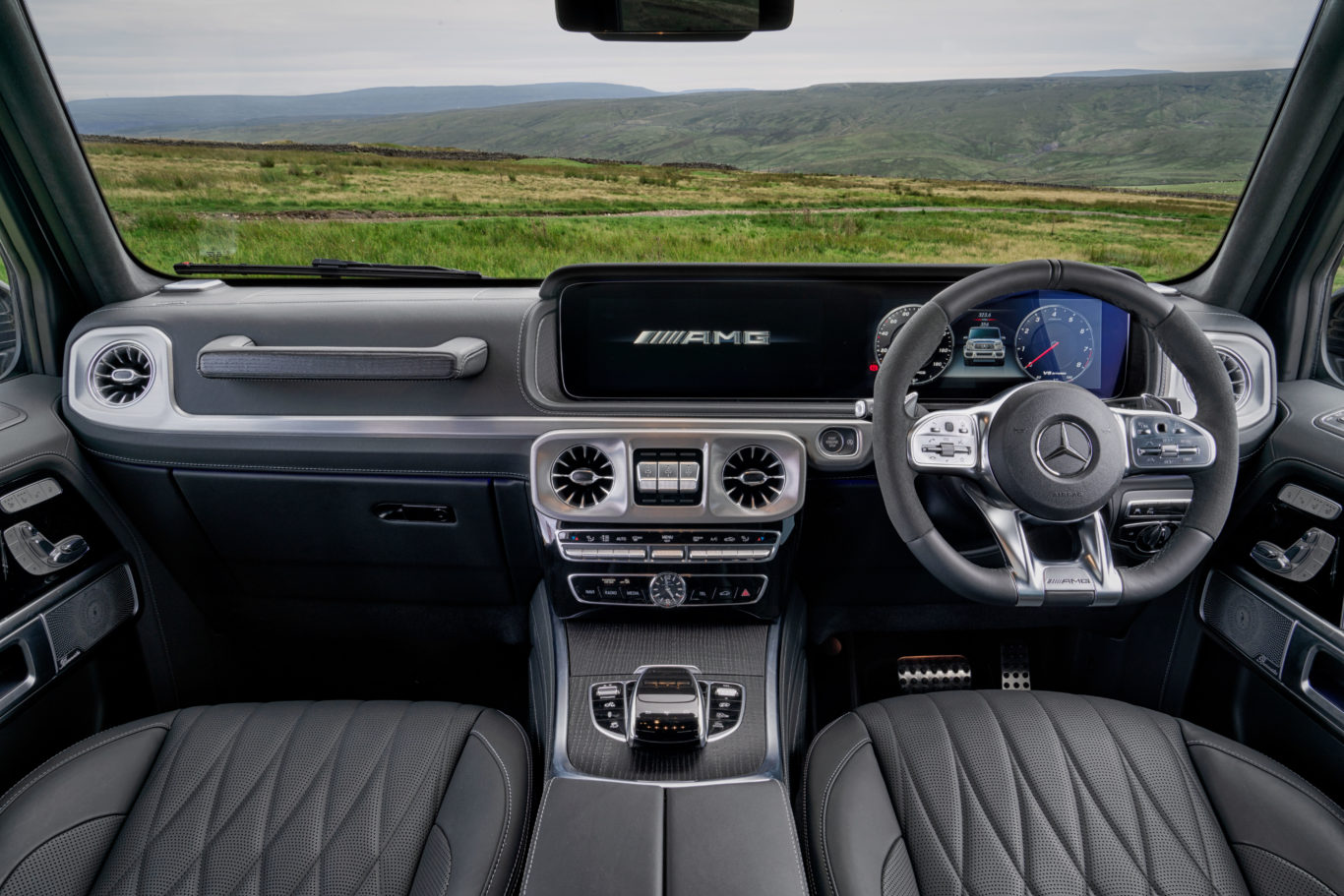 With the wide-screen infotainment setup lifted from the S- and E-Class models dominating the car's cabin, everything feels far more in proportion to the car's hefty cost. There's soft-touch leather juxtaposed by rugged feeling switches and, if you're after gadgets, then you're in the right place – you've got heated front seats which massage you, a heated steering wheel and even 64-colour ambient lighting.
What's the spec like?
As you'd expect from a car weighing in with a £153,000 price tag, there's a lot of standard equipment to be found in the G-Class. You get Mercedes' latest Comand infotainment system which is simple and easy to use, along with a Burmester surround sound system. Automatic three-zone climate control helps keep things at just the right temperature, while a high-definition 360-degree parking camera aids when trying to position the G. That final touch is a definite plus in a car of this size.
The whole cabin is just far better put together than before, and lives up to the three-pronged star at the front of the car. The seats are supportive, and there's better room in the back too – though it still can't offer the same amount of rear-seat space as you'd find in more conventional luxury off-roaders, like the Range Rover.
Verdict
There are a lot of reasons to dislike the Mercedes-AMG G63 . It's thirsty, relatively agricultural to drive compared to conventional four-wheel-drives and eye-wateringly expensive to boot. But there's the way this car gets under your skin, from the sheer brutality of its acceleration to the amount of presence it has out on the road which is difficult to ignore.
In this day and age, with ever-constant pushes towards electrification and downsizing, a 2.5-tonne off-roader with a 577bhp V8 under the bonnet could be classed as a bit of a dinosaur. However, we're quite glad that cars such as the G63 haven't gone extinct quite yet.
---